A digital marketing strategy is a planning, that uses one or more digital marketing channels, such as Google advertising, social media Marketing, or email marketing, to assist businesses in achieving certain goals.These strategy involves planning and execution of action by digital marketing experts.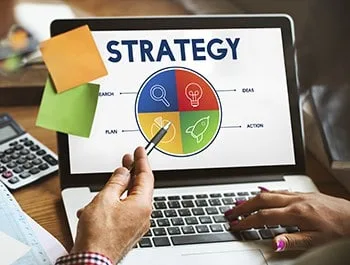 When digital marketing strategy performed Promptly on the significant platforms, which enables a brand to:
Reach potential customer
Building relationships
leads generation
Increasing page traffic
Sales Generating
Re-Marketing
5 best marketing strategies are :
1. Social media marketing:
Social media marketing is a one of the best marketing strategies. Its a promotion of a product, service, or brand on Social media platforms via social media platforms such as Instagram, Pinterest, TikTok, Twitter, or Facebook in order to increase sales and connect with potential customers. social media marketing targetted on the basis of demographics, location based, whcih hels the business to grab their potentail customer.
Furthermore, Business can interact directly with their potential customer by grabbing their attention by creating and posting highly relevant content.the content can be in the form of image, video or posters.
2. Content marketing:
Content marketing is the creation and distribution of online content that aim to generate interest in a company's products or services without the use of direct selling or explicit promotion.This digital marketing methodology provides users with insights and information on an industry or topic, and builds trust and brand authority through the publication of high-quality materials.
Importantly,Some businesses also utilise content marketing to communicate their company's unique values or vision.
3. Marketing automation:
Marketing automation is the process of automating repetitive processes so that tools can accomplish them instead of humans. It includes a wide range of marketing operations, including as sending prompted emails to website visitors and deploying AI chatbots to answer client questions.
besides, Marketing automation has several advantages. It might increase the productivity of your sales team if used for sales lead generation and lead nurturing. There are solutions that can send discount coupons to clients who are on the verge of converting. They can retarget lost site visitors with offers based on their purchasing or browsing history.
The most challenging aspect of marketing is remaining consistent. Routine tasks such as social media posting, sending welcome emails, and assigning assignments to teams can be handled via scheduling software. 64% of marketing professionals say their marketing automation is moderately effective in assisting them in accomplishing their most essential goals.
4. SEO (Search Engine Optimization):
SEO is the process of getting free and organic traffic to your website.If you can reach to the top of the SERPs, or at least page one, you've done well with SEO.It takes time and patience to rank on the first page of search engines.
SEO is a lengthy process,continuos planning and efforts on a regular basis helps to rank the website on the top position of the Google. Search Engine Optimization also has a lot of competition.
With SEO, you must not only outrank thousands of other websites, but you must also maintain your position at the top of the search results. SEO will increase the visibility of your company.
5. PPC (Pay per click):
Lastly, PPC is one of the more expensive marketing tactics, but the return and conversion rate are certainly worth the cost. The advertiser is charged a fee each time one of your advertisements is clicked.
One of the primary reasons for the extensive use of PPC advertising is the amount of marketing provided by Google, Bing, and Yahoo.It's easy for these reputable companies to gain the trust of business owners.
But of course, these companies are in it to make money (just like you!).
With that being said, that doesn't mean that you can't come out ahead with PPC!
After all, these companies want you to succeed so that you'll keep using their advertising tools.